To whom it may concern: February 2011
I have been a strong advocate for the use of fatty acid supplements in pets for years. There is strong scientific evidence in human medicine describing the numerous benefits. The cardiologist put my father on them after his by-pass surgery years ago, and my father-in-law was on them while he was on dialysis for renal failure.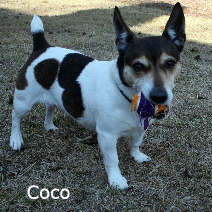 In my own practice, I've used them at anti-inflammatory doses of 180mg of Eicosapentaenoic Acid (EPA) per 10 pounds of pet for all sorts of diseases. Starting with allergies and skin issues, since my practice is in Georgia after all, but also any patient on heart medications, any dog or cat with renal disease, and any arthritic patients are placed on high doses of this supplement.
The trouble has been finding a reliable and trustworthy supplier. I used 3V caps for years, but after they were taken off the market along with all of the other DVM products, I began searching desperately for a substitute. The problem is that there is no regulation of these products. What I ended up doing was buying one of every type out there and trying them out on my own pets.
What I discovered was that there really wasn't anything decent available. I got by for about a year before I met up with Dr. Decker, who happens to be a former co-worker, at a conference we attended together, and she told me about this product she was working on. Since it dealt with a specific problem I was having, namely getting a decent EPA source, I jumped at the chance to try it out.
I am very happy to say that not only did the product perform admirably, but in some cases, it did even better than the free-form fatty acids I had been using previously.
My best test case was my Jack Russel I had adopted about two years ago. She had pretty severe allergies. I have her on a hypoallergenic diet, which has helped, but she still had rusty stains on her feet and axillary regions, and really no hair on her abdomen at all.
After about two month on Omega QD, I could no longer even see the skin on her belly. Really, how many normal Jack Russels have hairy stomachs? Not many, but mine does! The other noticeable difference: not a single area of staining anywhere – just stark white coat, even between her toes.
I tried switching her back to one of the other brands I had in stock still, and within a week, she was chewing vigorously at her poor toes. And to top it off, she sleeps with me at night, and this chewing went on for HOURS! She finally got kicked out of bed, but needless to say, we switched back quickly!
That sold me, of course, which also makes it easier to sell to clients. It's hard in general to sell fatty acids that we carry in our clinics to clients, many of whom are on fish oil themselves and figure they will just give some to their pet. My response to this is to explain that in recent studies, less than 20% of OTC nutritional supplements had in them what their labels claimed, and it wasn't just the cheaper ones.
So unless they have a company they know and trust, I always recommend they start with mine, and then once they see the benefits, they can try theirs and see if the benefits continue. The other thing I recommend to clients is that they get the right amount of EPA. Most fish oils do not break down the omegas into how many mgs of EPA are in each capsule, and I tell clients that if they can't be bothered to figure it out, it's because it's probably not that impressive!
I've continued to have great successes with Omega QD with every case we use it on, so I can say without reservation that this is the best Omega supplement I've ever tried, and in the past two years, I've tried LOTS!
Sincerely,
Tonya Amiri, DVM
Steeplechase Veterinary Hospital
Cumming, GA
---
Dr. Decker,
I wanted to express my appreciation to you for creating such an amazing product. My "grand-dog" Zoe, a 7 year old Mini Schnauzer, is doing incredible on Omega QD. Zoe stayed with me for a week while her parents were out of town…at that point; Zoe had been taking Omega QD for only 5 days. Wow….I could not believe the difference! Her fur was simply beautiful, and her mobility and spunk is astounding. I know it must be unusual for a Grandmother to write a testimonial, but I truly have never seen anything produce a positive change in such a short amount of time. On top of all of this, Zoe is only taking half of the recommended dose, and still unbelievable results were produced. Thank you so much, our little "Diva" is back!
One final question….can you now created an Omega QD for Zoe's grandmother…I want to feel like her!!!!

All My Best,
Karin Waters
---